Login
Log in if you have an account
Register
Having an account with us will allow you to check out faster in the future, store multiple addresses, view and track your orders in your account, and more.
Create an account
News & Press
In the News
Here at Safian & Rudolph, we're proud to be featured by publications and news outlets. Read more below!
---
By: John McDevitt, KYW Newsradio
PHILADELPHIA (KYW Newsradio) — Some improvements are coming to the oldest diamond district in the country.
About $2 million is being invested into Jewelers' Row in Center City to make the area more attractive and increase foot traffic to pre-pandemic levels.
Planning for this project, which began in 2019 but was slowed by the pandemic, resumed last year.
Phase one, which is almost complete, added planters on the sidewalk and along 7th and Sansom streets, as well as new LED lights and banner poles.
They also eliminated about 12 to 15 parking spaces to add new landscaping and "leave room for outdoor chairs and tables for restaurants that can be out on the street after people shop," said Paul Levy, president of the Center City District.
The Commonwealth awarded a $500,000 Redevelopment Assistance Capital Program grant for the project. The Center City District is giving an additional $1.5 million in its reserves for the enhancements.
In a few months, there will be an overhead gateway arch at 7th and Samson streets.
---
By: Laura Swartz
Some game days, even an elusive kelly green jersey isn't enough of a sartorial flex. These are the days you need to sparkle — to make your friends stop and register that, yes, you dropped hundreds to proclaim your fandom in silver and gold. Understated need not apply; elevate your style with these Birds baubles.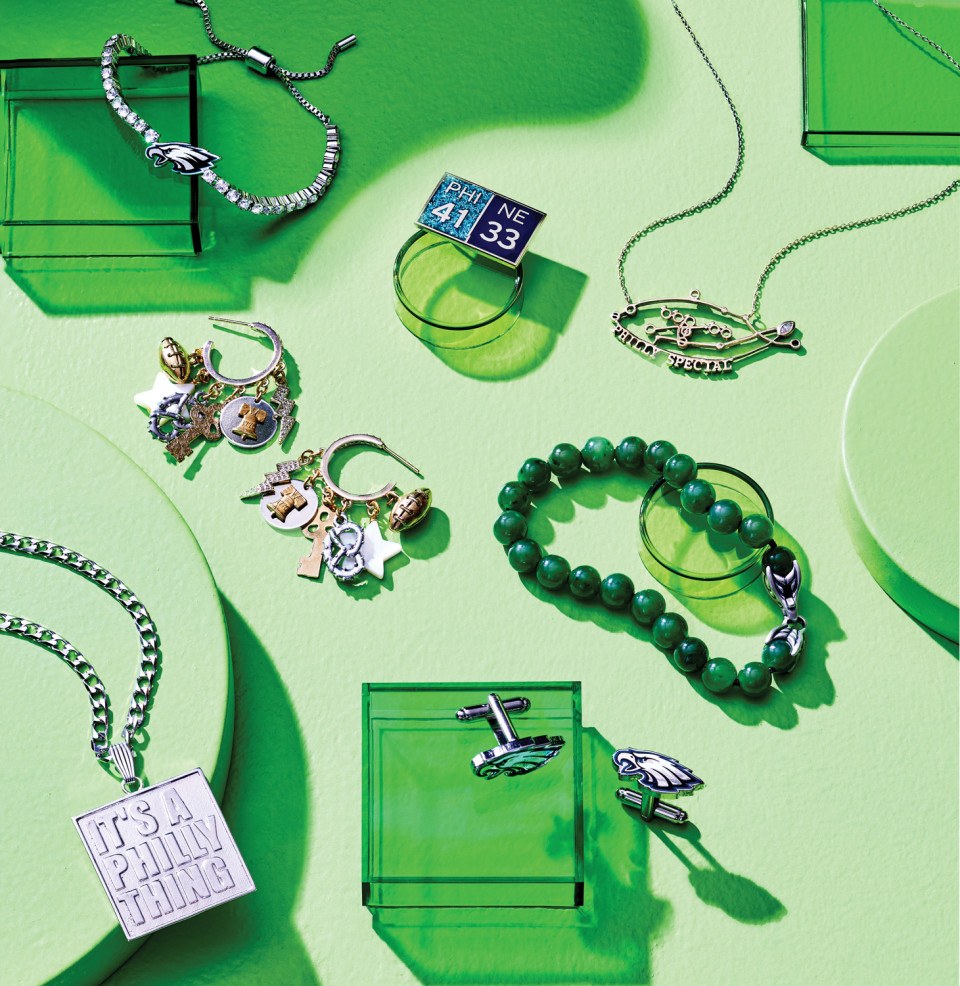 The silver and gold-plated Philly Special pendant necklace ($300 at Safian & Rudolph, Washington Square West) showcases the iconic trick play that secured the Eagles' victory in Super Bowl LII. I'm not sure if a playbook formation has ever been immortalized in precious metal before, but this one is certainly worthy of that honor.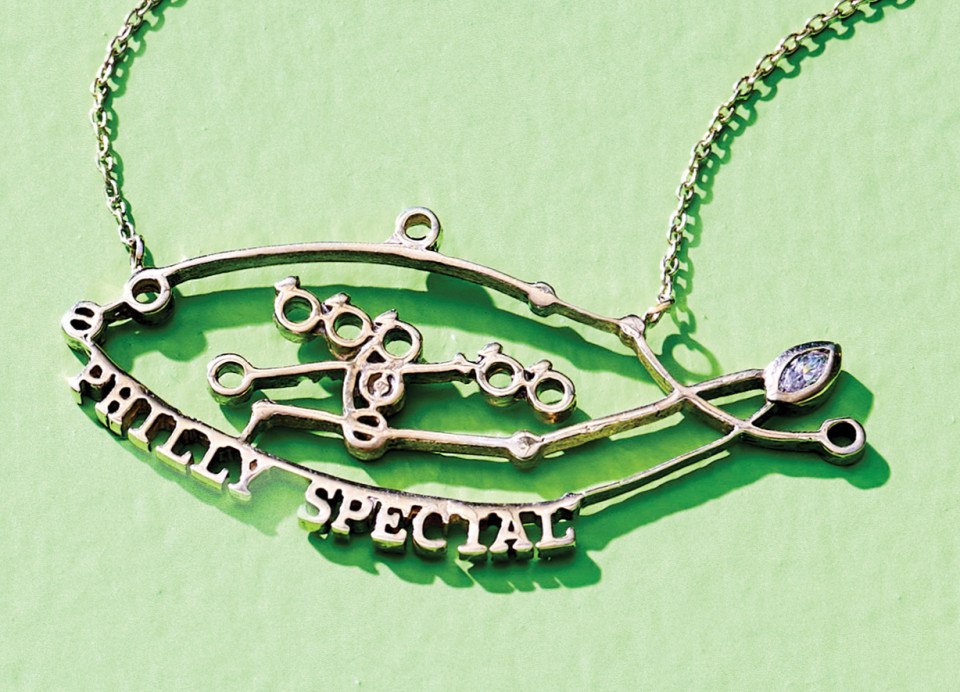 Those looking to infuse their formal attire with some fandom flair need look no further than the Philadelphia Eagles cufflinks. These let you subtly display your team pride, ensuring you're always repping the Birds, even in the most formal of settings. For even more options, Retro Philly carries cufflinks made from game-used footballs and seats from the Vet.
Okay, I'm done with subtlety. Because now it's time to discuss Safian & Rudolph's "It's A Philly Thing" silver pendant necklace ($395). It can also be made in gold or platinum upon request, in case you were wondering. It's a bold declaration that you're an Eagles fan, and that you were especially an Eagles fan last season. We're still waiting on a "No One Likes Us, We Don't Care" pendant.
A version of this article was published as "Emerald City" in the September 2023 issue of Philadelphia magazine.
---
March 23, 2022 | Fox 29 | Philadelphia store selling Ukraine pins, cufflinks to support country
Safian & Rudolph Jewelers in Philadelphia is selling pins and cufflinks of the Ukrainian flag to help support the country.
---
By: Elizabeth Wellington and Hira Qureshi
Buying an engagement can be tougher than falling in love.
Go for: Old-school Jewelers Row
Safian & Rudolph has been a Jewelers Row anchor since 1952. These days, the 1,000-square-foot showroom is helmed by third-generation jeweler Rich Goldberg. In 2020, Goldberg invited shoppers to peruse his store's glass cases virtually and reach out to him via his new service, Ask Safian. Shoppers can text questions directly to 267-384-0440. Goldberg, or another sales associate, will respond with timely answers. "There is a certain experience you can only get in a brick-and-mortar store," Goldberg said. "But, at the same time people crave the ease of online retailing. We are merging the two and adding my family's personal retail touch."
---
December 10, 2018 | The Chamber of Commerce for Greater Philadelphia | Member Perspective: Rich Goldberg
Guest Commentator: Rich Goldberg, 3rd Generation Owner, Safian & Rudolph Jewelers and President, Philadelphia Jewelers' Row District
How can business district associations drive economic growth for small businesses in their region?
Jewelers' Row is the Oldest Diamond District in America dating back to 1851. The Jewelers' Row Association has existed for multiple generations for those within the industry, however, the next generation of business owners are taking this historic district to the next level.
Thinking bigger picture than every business out for themselves, starting about two years ago, I lead an effort to unite the next generation of business owners on Jewelers' Row. The vision was to expand the Association by opening up to businesses of all types within our district and holding events to physically draw more traffic to our streets. After rallying up about a dozen other local business owners willing to help redefine and our rebrand our Association, we changed our name to the Jewelers' Row District and something magical began to happen. We found that many other businesses within a block or two from us felt they lacked a neighborhood to identify with. Many were searching for a way to take part in more local events and get additional exposure, but didn't know where to turn.
The new Jewelers' Row District was just an idea, then became a movement. We now span from Walnut to Market Street and 7th to 9th Street, encompassing not only the finest jewelry stores and retail shops, but delicious restaurants, galleries and businesses of all kinds. With our historic brick-paved Sansom Street at our core, over the past year we have grown from twenty-some members to over nearly 70 strong!
We hired SPW Productions to help us with event planning and last December we closed off Sansom St. and had our first Holiday Give-a-way event. Over the summer we held our first Movie Night on the Row, showing The Silver Linings Playbook (where the final kiss scene actually happened on Jewelers' Row)! Then, we successfully held our first Fall Block Party in September with great food & drinks from local restaurants & bars, music, games, a wedding section and of course amazing jewelry stores showing off their finest collections. Our social media is active, growing and promotes all of our members, as well as our new website which recently launched: jrow.org
Businesses are benefitting from our new and improved District. The events have helped to physically bring more people to our streets, but the overall awareness is really starting to have an impact as well. In addition, the businesses within our own community are working with each as we get to know our neighbors better. Many businesses have also begun offering special discounts and promotions to our own association members to increase traffic and revenue.
This is just a taste of what is happening in our historic District. The energy is growing and together we are driving economic growth. We are once again becoming a destination for all of Philadelphia.
###
Rich Goldberg is one of hundreds of small business owners that make up 60% of our membership. The Chamber is committed to providing small businesses with the tools to succeed in our region's evolving market. Learn more at ChamberPHL.com/SmallBiz.
---